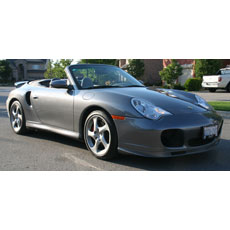 Toronto, Thornhill, Etobicoke, Lester B Pearson Airport, Burlington & Oakville
Affinity Luxury Exotic Car Rental - Porsche 911 Turbo Convertible without LDW
Sorry, this product is no longer available for purchase.
OVERVIEW
WHAT'S INCLUDED
TERMS & CONDITIONS
Offer Summary
Experience a Luxury Car rental in the Toronto-Area!
Enjoy a day as a Porsche Driver!
Experience the roads in this Porsche 911 Turbo and see how it feels to have the top down with the wind blowing through your hair as you drive one the best Sports cars.
This experience is perfect for Mothers day, Fathers day, Birthdays, Anniversaries, Weddings or just because you desire it!
Affinity Luxury Exotic Car Rental is the largest luxury & exotic car rental company in Toronto & surrounding GTA, we have been serving our clients for over 20 years with our wide variety of luxury & exotic vehicles.

We rent Classics, BMW, Mercedes, Bentley Lexus, Audi, Jaguar, Infiniti, Corvette, Range Rover, HUMMER, Escalade, Mini, Smart, Lamborghini and Porsche, with a wide variety of other vehicles for leisure, business, promotion & special occasions.

With Affinity Luxury Exotic Car Rental you can experience the finer things in life.



Location
Toronto, Thornhill, Etobicoke, Lester B Pearson Airport, Burlington & Oakville
What's Included
Description
Your LifeExperiences package includes:
24 hour rental – Monday to Friday

Liability Insurance included

100 km included - Excess km @.50 each or (Pre-Pay option - $35.00 per 100 km)

All the FUN life can offer!
Whatever your plans are, you will have the time of your life experiencing what the Porsche 911 Turbo has to offer!
Easy as 1-2-3:
After receiving your certificate, please call the experience provider to book your reservation.
Identify that you are booking a LifeExperiences package and quote the number on your certificate.
Be sure to bring the certificate with you. It is your method of payment.
Terms & Conditions
Renter/driver must be 25 years of age or older

Must have a valid G Class driver's license

Present proof of insurance coverage on your personal automobile

A security deposit of $5000.00 - $10000.00 is required at time of rental.

The hold will be processed on credit card & returned to recipient upon the safe and damage free return of the rental vehicle

Loss Damage Waiver coverage can be purchased if the recipient does NOT have Collision coverage via a premium Credit Card and/or their own personal auto policy

Recipient is responsible for additional rental fees and impound charges if the vehicle is impounded by the Police for exceeding the legal posted limit by 50km or more.

Advanced reservations required

Subject to availability.

Policies subject to change without notice

Must present Certificate upon arrival.

This offer is valid for two years from date of purchase

This Gift Certificate is only redeemable for the outlined services as defined in the package listed above OR the Certificate amount can be applied as a partial payment to an extended rental period as outlined on the Providers Web-site.

Can not be redeemed for cash.

This Certificate has no implied warranties.

LifeExperiences.ca shall not be responsible for any injury, accident, loss, misfortune or damage of any kind (to property or person) relating to any aspect of the above services.