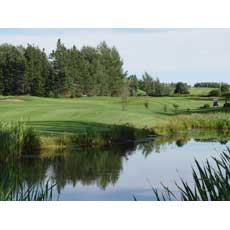 Golf PEI - Countryview Golf Club - $50 Gift Certificate
Sorry, this product is no longer available for purchase.
OVERVIEW
WHAT'S INCLUDED
TERMS & CONDITIONS
Offer Summary
Enjoy a Round of Golf in Fairview, PEI!
When eighteen is too many and no golf at all just won't do, the 9-hole gem of Countryview is ready to welcome you.

At Countryview, your game will become progressively more challenged as you take on each successive hole. This course brings together everything you could ask for in a brief encounter of nine holes or a double round of eighteen.

Countryview Golf Club has a striking and scenic layout located within 20 minutes of Charlottetown, on the beautiful West River and the gentle slopes of Fairview.
Location
Fairview, Prince Edward Island
What's Included
Description
It doesn't get any easier!
Take your LifeExperiences gift card to this venue and apply it to your own experience or buy this online certificate and apply it to this location.
It's easy to redeem your LifeExperiences certificate!
1. To make your reservation please call Golf PEI at 1-866-465-3734
2. Quote the number printed on the certificate or card.
3. Golf PEI will book your reservation.
4. You must bring your certificatea to your destination to redeem your package.
Terms & Conditions
Restrictions may apply

Advanced reservations required

Policies subject to change without notice

Must present certificate upon arrival

This gift certificate is only redeemable for the outlined services as defined in the package

May not be redeemed for cash

This certificate has no implied warranties

One time use only. This gift certificate cannot carry a balance

LifeExperiences.ca shall not be responsible for any injury, accident, loss, misfortune or damage of any kind (to property or person) relating to any aspect of the above service