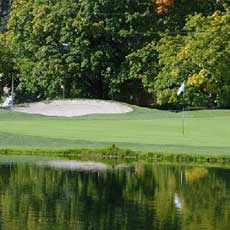 Summerland Golf & Country Club - $50 Gift Certificate
OVERVIEW
WHAT'S INCLUDED
TERMS & CONDITIONS
Offer Summary
Overlook beautiful landscapes while golfing in British Columbia
The course at Summerland Golf & Country Club is located on Paradise Flats, and offers quite a contrast in lay out between the front and back nine. The first hole provides the golfer with a wonderful start, the tee being perched some 75 feet about the fairway and offering a great view of the Okanagan Valley in the distance.
Drenched in sunshine overlooking Trout Creek Canyon and the Okanagan Valley is the Summerland Golf and Country Club.



Location
Mountain Ave, Summerland, British Columbia
What's Included
It doesn't get any easier.
Use your LifeExperiences gift card or this certificate towards green fees at this venue.
Please be sure to present your card/certificate upon arrival.
Terms & Conditions
Restrictions may apply

Advanced reservations required

Policies subject to change without notice

Must present certificate upon arrival

This gift certificate is only redeemable for the outlined services as defined in the package

May not be redeemed for cash

This certificate has no implied warranties

One time use only. This gift certificate cannot carry a balance

LifeExperiences.ca shall not be responsible for any injury, accident, loss, misfortune or damage of any kind (to property or person) relating to any aspect of the above service