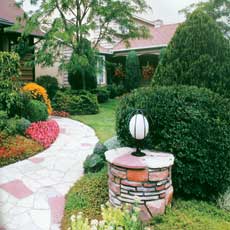 Artistic Landscape Designs Ltd.
OVERVIEW
WHAT'S INCLUDED
TERMS & CONDITIONS
Offer Summary
Come to Artistic Landscape Designs Ltd. where we take you through a personalized landscaping design process. Bring photos or digital pictures and a scaled outline of your property to our office along with a list of your desired plants.

Bringing people back to nature at home is the goal of the staff at Artistic Landscape Designs Ltd. Natural balance and beautification bring harmony and long-lasting impressions.

As well as growing thousands of varieties of hardy and unusual plants at our nursery, we help gardeners and botanical enthusiasts alike bring harmony and beauty to the world with landscaping services, garden assessments, seminars and personalized consultations.

View landscaping examples and the many varieties of plants on offer. Then, take the opportunity to draw on the experience and know-how of Eva Schmitz. At the end of the hour leave with sketches, handouts, an Instruction Garden Manual, fresh ideas and a clearer vision of your garden's potential.
Location
2079 Bank Place, Ottawa, Ontario
What's Included
Your LifeExperiences package includes:
One-hour Landscaping Consultation with landscape architect Eva Schmitz.

Instruction Garden Manual with Handouts
Easy as 1-2-3:
After receiving your certificate, please call the experience provider to book your reservation.
Identify that you are booking a LifeExperiences package and quote the number on your certificate.
Be sure to bring the certificate with you. It is your method of payment.
Terms & Conditions
Advanced reservations required.

Subject to availability.

Policies subject to change without notice.

Must present certificate upon arrival.

This offer is valid for two years from date of purchase.

This gift certificate is only redeemable for the outlined services as defined in the package.

May not be redeemed for cash.

This certificate has no implied warranties.

LifeExperiences.ca shall not be responsible for any injury, accident, loss, misfortune or damage of any kind (to property or person) relating to any aspect of the above services.