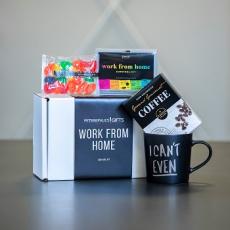 Offer Summary
Coffee in one hand, notepad in the other.
Give someone you know working from home (and who isn't these days!) the perfect goodie box.
Exploding with the essentials; caffeine and a Pinch survival kit. They'll be kicking their feet up with their new favourite mug in one hand and jujubes in the other!
Make working from home that much better!
Location
Additional Notes
After receiving your gift certificate by email – call 1-800-281-4438 to order your gift basket
Peter & Paul's Gifts and Baskets have the right to substitute any basket item or base for equal or greater value
No refunds
Must provide certificate number upon ordering
Subject to availability
Policies subject to change without notice
This gift certificate is only redeemable for the outlined products/services as defined in the package
May not be redeemed for cash
This certificate has no implied warranties
One-time use only. This gift certificate cannot carry a balance
This offer is valid for two years from the date of purchase
LifeExperiences.ca shall not be responsible for any injury, accident, loss, misfortune or damage of any kind (to property or person) relating to any aspect of the above services
What's Included
Your LifeExperiences package includes:
Coffee Mug
Jujubes
Work from home survival kit
Zavida coffee
Easy as 1-2-3:
After receiving your certificate, please call the experience provider to book your reservation.
Identify that you are booking a LifeExperiences package and quote the number on your certificate.
Be sure to bring the certificate with you. It is your method of payment.