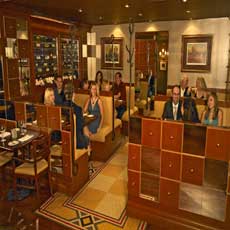 Wildfire Steakhouse and Wine Bar - Dinner for 2
OVERVIEW
WHAT'S INCLUDED
TERMS & CONDITIONS
Offer Summary
Enjoy a Delicious 3-course Meal for 2 in Toronto!
Wildfire Steakhouse & Wine Bar offers authentic charcoal grilled cuisine and over 700 wine labels. Our outstanding wine bar has been presented (two years consecutively) with the Wine Spectator Best of Award of Excellence as one of the best restaurant wine collections, offering guests wines from regions around the world. The unparalleled service and breathtakingly intimate ambiance set the stage for an unforgettable evening.
At Wildfire Steakhouse & Wine Bar, we bring you the very best of hardwood charcoal-inspired cooking to offer exquisite food and exceptional service in a relaxed and friendly atmosphere. We are committed to providing a memorable dining experience to each guest and we make your satisfaction our top priority. Using only the freshest ingredients and grilled exclusively with Quebec maple charcoal, we prepare every dish to order in our open concept kitchen. In addition to our delicious Sterling Silver® steaks, we offer a wide range of other mouth-watering appetizers, entrees and desserts to please any palate. As an accompaniment, our wine list gives you a selection of over 700 wines, with labels to match every meal and suit any taste. We look forward to welcoming you to Wildfire Steakhouse & Wine Bar very soon.

Located in Toronto
Location
3438 Yonge Street, Toronto, On, M4N 2N2, Toronto, Ontario
Additional Notes
Sample Menu:
Course 1
Candied Pecan and Goat Cheese Salad
Organic greens in a Balsamic vinaigrette, with dried cranberries
Portobello Mushroom Salad
Vine-ripened tomatoes and balsamic reduction Crab Cakes
Double - breaded crab cakes served with a dill sauce

Course 2
Ahi Tuna Steak
Lightly seared with mango salsa and asparagus Ricotta Gnocchi
Hand-harvested wild mushrooms, truffle oil, wilted spinach, tomatoes, roasted garlic, sprinkled with Grano Padano
Sterling Silver® Rib Steak
Grilled with the bone in for the fullest flavour 16 oz. or 24 oz.
Sterling Silver® New York Striploin
The Classic -What else can we say? 8 oz., 12 oz., 16 oz.
Surf and Turf
8 oz. filet mignon and lobster tail
Piri Piri Half Chicken Churrasco
Our famous Portuguese-inspired chicken, served with seasonal vegetables and roasted garlic mashed potatoes

Course 3
Decadent Chocolate Torte
Flourless chocolate torte served on crème anglaise Wildfire's Crème Brûlée
Traditional homemade crème brûlée, made with rich Madagascar vanilla beans
New York Cheesecake
Creamy and traditional with a Wildfire twist-rich
rum-flavour, served with chefs choice coulis

Visit www.wildfiresteakhouse.com for our full menu.
Live entertainment Thursday and Friday 7:00-10:00pm
What's Included
Description
Your LifeExperiences package includes:
Dinner for two at Wildfire Steakhouse & Wine Bar (including appetizer, main course and dessert)

Wine pairing (one glass each with each course)

Gratuities not included
Easy as 1-2-3:
After receiving your certificate, please call the experience provider to book your reservation.
Identify that you are booking a LifeExperiences package and quote the number on your certificate.
Be sure to bring the certificate with you. It is your method of payment.
Terms & Conditions
Advanced reservations required

Subject to availability.

Policies subject to change without notice

Must present certificate upon arrival.

This offer is valid for two years from date of purchase.

This gift certificate is only redeemable for the outlined services as defined in the package.

May not be redeemed for cash.

This certificate has no implied warranties.

LifeExperiences.ca shall not be responsible for any injury, accident, loss, misfortune or damage of any kind (to property or person) relating to any aspect of the above services.